Edversity Receives No.1 EdTech Startup Award in Pakistan from President of Pakistan
June 3, 2023
2023-06-29 21:41
Edversity Receives No.1 EdTech Startup Award in Pakistan from President of Pakistan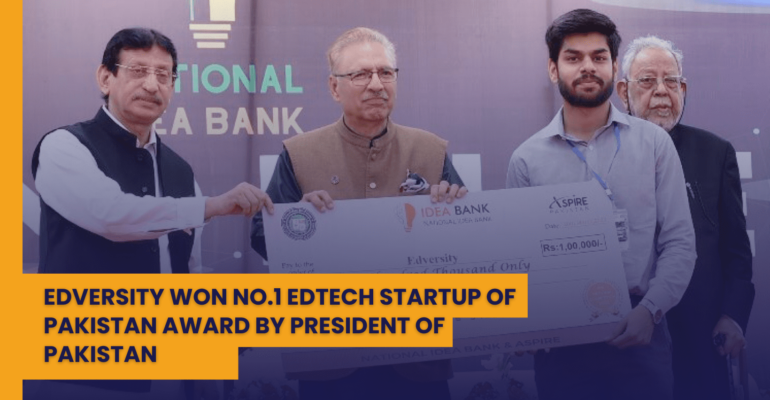 Edversity Receives No.1 EdTech Startup Award in Pakistan from President of Pakistan
Breaking News: Edversity Crowned Top EdTech Startup of Pakistan by President of Pakistan!
Introduction:
In a remarkable achievement, Edversity, the groundbreaking e-learning platform, has been recognized as the leading EdTech platform in Pakistan. This esteemed honor was bestowed upon them by none other than the President of Pakistan, Dr. Arif Alvi, during the highly anticipated closing ceremony of the esteemed National Idea Bank. With an impressive turnout of over 37,000 entries, Edversity's victory has truly set them apart as an industry trailblazer.
Empowering the Youth with Digital Skills:
Edversity has solidified its position as a frontrunner in the EdTech sector by offering affordable and accessible digital skills education to the youth. Their mission is to equip young individuals with the tools they need to thrive in a rapidly evolving job market. By focusing on localized, up-to-date course content, Edversity collaborates with top-notch instructors to create high-impact learning experiences that incorporate student community portals and personalized one-on-one mentorship sessions.
Founder's Thrill and Dedication:
"We are thrilled to receive this exceptional recognition from the President of Pakistan and to be named the top EdTech platform in the country," exclaimed the elated founder of Edversity. This prestigious award serves as a testament to the unwavering dedication of the entire team at Edversity. Their remarkable impact on the lives of enthusiastic young learners, driven to excel in the digital economy, is now acknowledged and celebrated.
Distinctive Features and Competitive Advantages:
Edversity emerged as the undeniable winner amidst a diverse range of entries in the National Idea Bank competition. What sets them apart are their unique features and competitive advantages. These include localized course content that resonates with the learners, student community portals fostering collaboration and growth, mentorship support to nurture talent, career guidance to navigate the professional landscape, scholarship programs for deserving individuals, and installment plans tailored to merit and financial need.
Creating Next-Generation Technopreneurs:
Edversity's unwavering commitment is to create the next generation of technopreneurs who are well-equipped with the digital skills necessary to flourish in a rapidly changing world. Their award-winning team is resolutely focused on unlocking employment opportunities and enabling young individuals to build successful careers.
Expanding Reach and Impact:
Armed with this remarkable recognition, Edversity is now poised to expand its reach and amplify its impact. Their goal is to empower more young individuals in Pakistan and beyond, ensuring they acquire the vital skills essential for success in the digital economy. By bridging the gap between education and employment, Edversity is reshaping the future of learning and equipping the youth with the tools they need to thrive.
Edversity's triumph as the top EdTech startup in Pakistan, awarded by none other than the President of Pakistan, marks a significant milestone in their journey. With their unwavering dedication to empowering the youth with digital skills, Edversity is paving the way for a new generation of technopreneurs. Through their unique features and competitive advantages, they are revolutionizing the education landscape, unlocking opportunities, and shaping successful careers. With this recognition propelling them forward, Edversity is ready to transform the lives of countless more young individuals, empowering them to thrive in the digital economy.