Founder of Edversity, Saad Siddiqui, briefed Edversity to Prime Minister of Pakistan
July 27, 2023
2023-07-27 14:03
Founder of Edversity, Saad Siddiqui, briefed Edversity to Prime Minister of Pakistan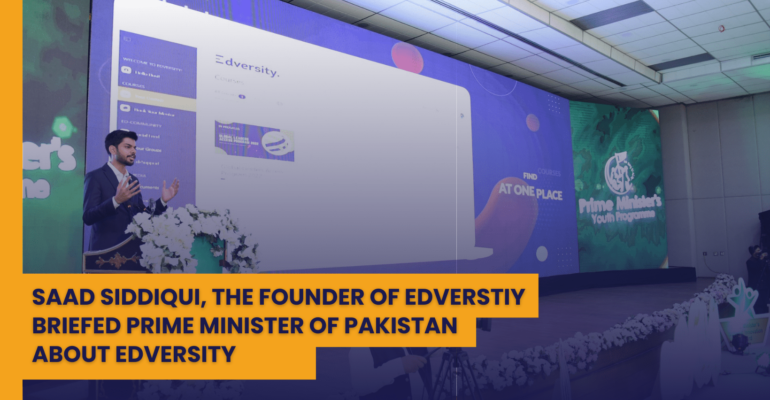 Founder of Edversity, Saad Siddiqui, briefed Edversity to Prime Minister of Pakistan
Edversity at Prime Minister House!
We are thrilled to share a momentous occasion for Edversity as we were invited to Prime Minister House today, where our Founder, Saad Siddiqui, had the incredible opportunity to present our transformative concept to the Prime Minister, IT Minister, esteemed government officials, and an enthusiastic audience from diverse backgrounds. It was an awe-inspiring experience to represent Edversity and showcase our vision for the future of education and innovation in Pakistan. The recognition of our efforts was truly an honor, and we are deeply grateful to be the proud recipient of the National Innovation Award.
At Edversity, we aim to empower learners with cutting-edge digital skills, redefine career opportunities, and drive positive change in society. This recognition strengthens our commitment to revolutionizing the education landscape in Pakistan and beyond. We owe this success to our incredible team, dedicated learners, and supportive partners, who have stood by us on this transformative journey. Together, we are shaping a brighter tomorrow for the youth of Pakistan and empowering them to unlock their true potential. We extend our heartfelt gratitude to everyone who has believed in us and supported our vision. This milestone at Prime Minister House marks the beginning of a new chapter for Edversity, and we are excited to continue our mission of transforming lives through education.
Checkout the full video https://www.youtube.com/watch?v=hjSNZIhg-eI
Stay tuned for more updates as we keep pushing the boundaries of education and empowering the next generation of leaders. Together, let's create a future where every individual can thrive and achieve greatness!
#Edversity #NationalInnovationAward #EdTech #Education #TransformingLives #FutureofEducation #EmpoweringYouth #DigitalSkills #Innovation #PakistanProud #PrimeMinisterHouse #Empowerment #MakingHistory #ChangingEducation #SuccessStory #EdTechRevolution #EmpoweringPakistan #UnlockYourPotential #NextGenLeaders #Gratitude #ProudMoment #Inspiration #EducationMatters #EmpowermentThroughEducation #ChangeMakers #BuildingTheFuture #EdversityJourney