Edversity Wins National Innovation Award 2023 by Prime Minister of Pakistan
June 22, 2023
2023-06-29 21:40
Edversity Wins National Innovation Award 2023 by Prime Minister of Pakistan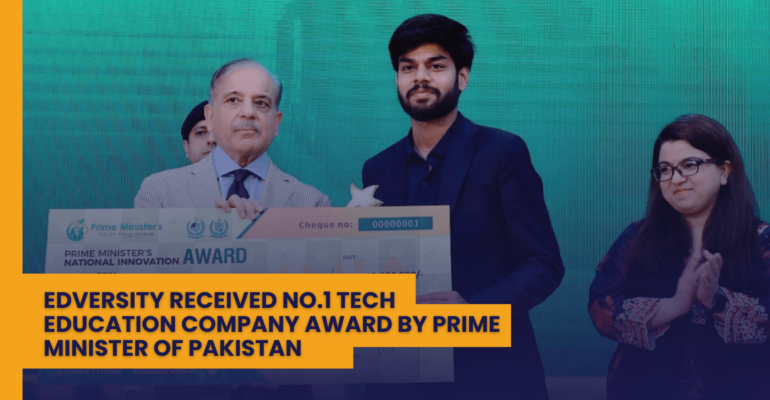 Edversity Wins National Innovation Award 2023 by Prime Minister of Pakistan
Breaking News: Edversity Recognized for Innovation Excellence at National Level
We are thrilled to announce that Edversity, the pioneering e-learning platform, has been honored with the prestigious National Innovation Award 2023 by the esteemed Prime Minister of Pakistan. This remarkable achievement not only celebrates our commitment to innovation but also showcases our dedication to transforming the education landscape in Pakistan and beyond.
The National Innovation Award is a highly coveted recognition bestowed upon individuals and organizations that have made outstanding contributions in the field of innovation. This esteemed accolade serves as a testament to the vision, hard work, and unwavering determination of our team at Edversity.
Receiving this award directly from the Prime Minister himself is a significant milestone in our journey. It is a resounding validation of our relentless pursuit of excellence and our dedication to empowering the youth with the skills they need to thrive in the digital era.
The National Innovation Award highlights Edversity's groundbreaking initiatives in the education sector. Our innovative approach, personalized learning experiences, cutting-edge technologies, and commitment to creating the next generation of technopreneurs have set us apart as a leader in the industry.
We extend our deepest gratitude to the Prime Minister of Pakistan for recognizing our efforts and inviting us to his office. This opportunity provides us with a platform to showcase our innovative solutions and discuss how we can further collaborate to shape the future of education in Pakistan.
We are immensely proud of our team at Edversity, whose relentless passion and dedication have made this achievement possible. This award is a testament to their unwavering commitment to innovation, education, and empowering the youth.
As we move forward, this recognition fuels our motivation to continue pushing the boundaries of education technology, unlocking new opportunities, and transforming lives. We remain steadfast in our mission to equip young individuals with the digital skills they need to succeed in a rapidly changing world.
We extend our heartfelt thanks to our valued students, partners, and supporters who have been an integral part of our journey. Together, we will continue to make a lasting impact on the education landscape and pave the way for a brighter future.